U2 Bringing 'the Claw' to Auckland in 2010
Update (17/11): Lots of people seem to be looking for the start times related to the U2 concerts.  Thanks to Maxx (public transport looks to be a great way to get to the concert) we have the details.  The gates open at 4:30pm, Jay-z will hit the stage at 7:30pm and U2 will rock the kasbah at 9:15pm.   Should be sweeeeet.
U2 have announced a second show (as expected) on Friday the 26th of November.  Tickets go on sale at 9am on September the 9th (Thursday).
Follow U2Auckland on twitter for all the latest news about the upcoming U2 concert.
So you'll all have heard that U2 are coming back to New Zealand's shores in November for a one off (yeah right) concert.
Since I'm getting quite a few hits to my older posts from people looking for info on this gig, I thought I would list all the stuff we know in one place.
– [First] Concert will be at Auckland's Mt Smart Stadium on November 25th
– Tickets will go on sale on the 3rd of September (9am) Update: from Ticketek
– Jay-Z will be the support act for Australia and New Zealand
Ticket Prices:
TICKET LIMIT: 8 tickets per transaction.
Ticket Prices (Updated only names):
P1 Seating: $299.90
P2 Seating: $229.90
P3 Seating: $174.90
P4 Seating: $109.90
P5 Standing: $99.90
P6 RED ZONE: $349.50
P7 Seating: $39.90
Transaction fees apply (up to $18).
More details: Ticketek
Stadium Layout: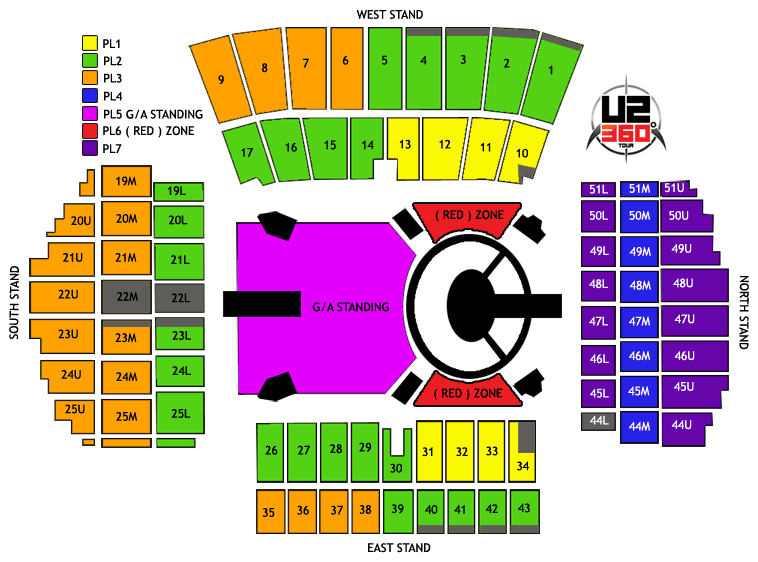 Frequently Asked Questions:
What time does the concert start?
4:30pm
Are cameras allowed?
Non-professional equipment is allowed (not sure how they define 'professional)